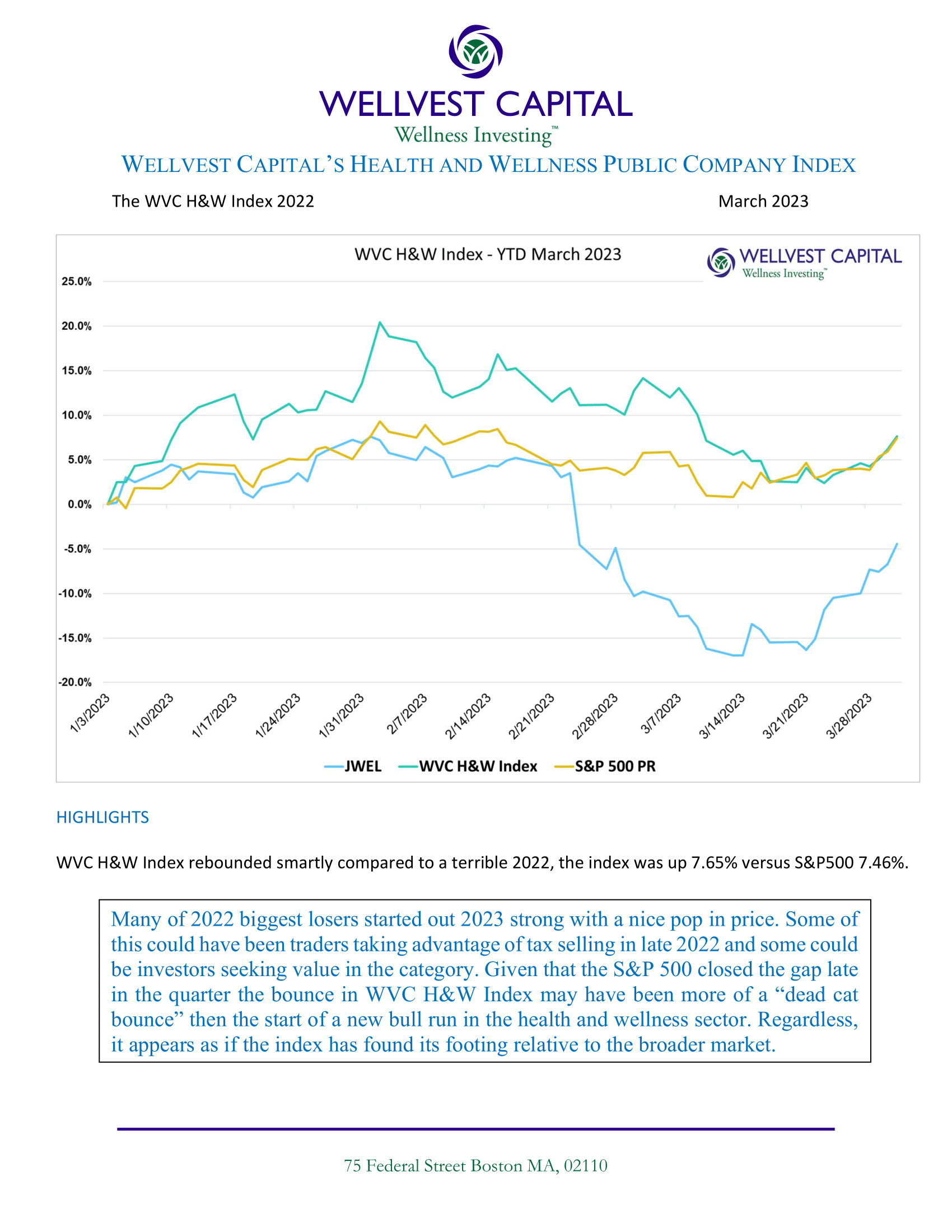 Wellvest Capital
H&W Index Q1 2023 Performance Recap
March 2023
SUPPLEMENTS IN FOCUS
The companies in the WVC H&W Index that focus on nutritional supplements had a strong
performance in Q1 2023. As a group they delivered an 11.2% return on an equal weighted basis,
excluding dividends. Pure play Thorne Research (THRN) lead the way, up 27.3%. Natural Alternatives
International (NAII) was up 9.0%. Jamieson Vitamins (TSE:JWEL) was downgraded by a number of sellside analysts putting pressure on the stock late in February. The more diversified players generally
fared better than their pure play peers. Natural Health Trends (NHTC), USANA Health Sciences (USAN),
Herbalife (HLF), and Nestle (NESN) were up 30.6%, 18.2%, 8.2%, 5.1% respectively. Blackmores in
Australia was the laggard losing 4.6% on a USD basis.
H&W INDEX WINNERS and LOSERS
Top Five Winners

Else Nutrition (TSX:BABY) 64.0%
Basic-Fit (BFIT) 51.8%
Peloton (PTON) 42.8%
Oatly (OTLY) 39.1%
Bell Ring Brands (BRBR) 32.6%

Top Five Losers

Honest Company (HNST) -40.2%
United Natural Foods (UNFI) -31.9%
Blue Apron (APRN) -18.4%
Nautilus (NLS) -12.4%
Giant (TAI:9921) -11.2%