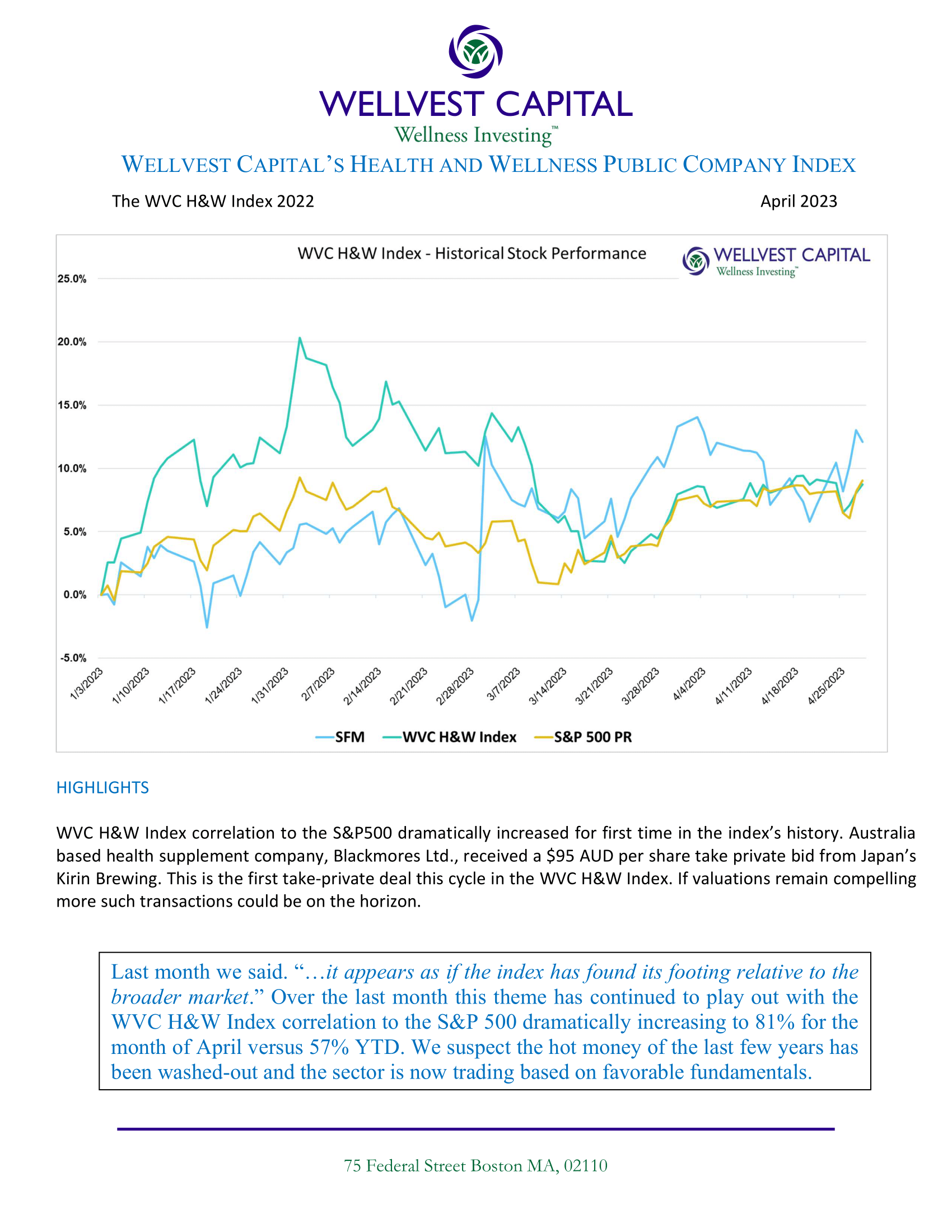 Wellvest Capital
H&W Index April 2023 Performance Recap
April 2023
RETAILERS AND "MLM" IN FOCUS
The companies in the WVC H&W Index that directly face off with consumers; sector focused retailers
and Multi-Level-Marketers (MLM) did well but the underlying components had mixed results YTD. As
a group they have positive stock performance and beat the S&P500 by 5.98%. The Asia focused MLM,
Natural Health Trends (NHTC) was the outlier with a strong 79.8% YTD return. This outperformance
may have been due to a number of technical factors including short covering and the 13% dividend
yield. Grocers Sprouts Farmers Market (SFM) and Natural Grocers held their own, generating a
positive 7.1% and 18.1% respectively. Excluding NHTC, the MLM's marked time with a -0.60% return;
treading water as group with a mix of winners and losers. USANA Health Sciences (USNA) was the sole
winner with a 24.8% return, followed by Herbalife (HLF) at -0.10%, and Nu Skin Enterprises (NUS) –
6.4%. Medifast (MED) was the laggard losing -20.5% YTD. Apparel retailer, Lululemon Athletica (LULU)
did not disappoint with a respectable 18.6% gain. Given the inflationary environment and the recent
strong earnings by major food and beverage companies driven by price increases; it is interesting to
see the volatility in the WVC H&W Index sub-group of retailers. While many factors are at play in any
individual company performance, retailers' ability to pass on price increases may have peaked.
H&W INDEX WINNERS and LOSERS
Top Five Winners

WW International (WW) 116.3%
Natural Health Trends (NHTC) 79.8
Basic-Fit (BFIT) 62.4
RiceBran Technologies (RIBT) 44.6
BellRing Brands (BRBR) 40.4

Top Five Losers

Honest Company (HNST) -44.9%
Blue Apron (APRN) -33.1
United Natural Foods (UNFI) -29.6
Medifast (MED) -20.6
Chewy (CHWY) -16.4